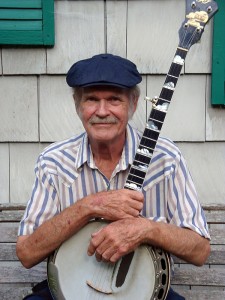 Bill Keith, newest member of the Bluegrass Music Hall of Fame, died on October 23, less than a month after being inducted into the IBMA's prestigious Hall of Fame. Bill accepted the honor in person at ceremonies held in Raleigh, North Carolina. Confined to a wheelchair, he uttered a brief but heartfelt acceptance speech, thanking his many friends and fans for the recognition.
I first learned about Bill Keith some fifty years ago from other banjo players in California where I live, who were learning to play what they referred to as "Keith-style" banjo. I didn't know who Bill Keith was at the time but I heard the "style" and was very intrigued by it. I learned that Bill Keith was a young banjo player working with Bill Monroe and the Blue Grass Boys (although in Monroe's band, he was known as "Brad" Keith because there could only be one Bill in the Blue Grass Boys.) After working with Monroe, Bill played with a number of other bands including Jim Kweskin's Jug Band
"Keith-style" banjo meant that the notes played on the banjo did not harmonize with each other in an arpeggio style like Earl Scruggs and my hero Doug Dillard played. Instead the notes flowed along in a melodic style, one note after the other, sort of like the flight of the bumblebee which I had learned as a child to play on the piano. Most Keith-style banjo players like to play fiddle tunes note-for-note.
When Steve Martin made his acceptance speech at IBMA this year (upon receiving the IBMA's Distinguished Achievement Award) he commented that his banjo journey consisted of a series of "OH NO" moments–those times when he heard a newer, better way to play. He recalled how as a young Scruggs-style player, he first heard Bill Keith. "OH NO," he realized, "Now I have to learn how to play like that!" I laughed at the truth of this because that was my experience exactly. I did try (and try and try) to learn how to play in the Keith-style, but I never mastered it. I learned to play "Soldiers Joy" and "Sailor's Hornpipe" enough to get by, but that was about it. I never did get the concepts in my head, so I had to memorize those tunes. If I made mistake along the way I would get hopelessly lost and have to start over. But I have always loved to listen to the great Keith-style players (and there are many)–guys like Carl Jackson, Larry McNeeley, Alan Munde, Bela Fleck, Scott Vestal, Noam Pikelny. Out here on the west coast, the first one I heard (and admired) was Pat Cloud.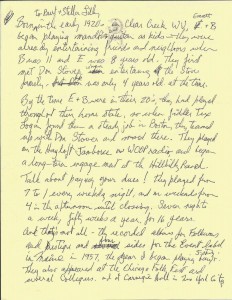 Many years later, I had a chance to meet Bill Keith and even work with him on one project. When I was producing the IBMA Awards Show in 2002, I asked Bill if he would present the Lilly Brothers for induction into the Bluegrass Hall of Fame. He agreed and I met up with him in Louisville on the day of the awards ceremony. He had not yet written his speech for the Lilly Brothers. I told him that we really needed a copy of the speech before the show. So he went straight to his hotel room and scratched out a lovely tribute to the Lilly Brothers on a sheet of Galt House Hotel stationery. A few minutes later, we transcribed it to the show's teleprompter and the induction of the Lilly Brothers went without a hitch. I have hung on to that sheet of paper … it's a little piece of bluegrass music history.
During rehearsal for that show, I mentioned to Bill that I had purchased a pair of his famous "Keith tuners" (tuning pegs for the banjo which allowed you do tune a string up or down on the fly) many years ago and that they were no longer operating properly. I wondered if he could give me some advice. He simply reached into his backpack and handed me a pair of brand new tuners and said, "Try these instead. Send your old ones back to me and we'll fix them for you." I did and he did.
My only other encounter with Bill Keith was after the 2006 awards show, which I also produced. The show had gone well but there were some controversial moments during the show which had everyone talking. Among them was our decision to combine the individual instrumental awards into one presentation rather than the usual six (requiring six acceptance speeches), mainly to save time on the show. Not everyone was happy with this decision. After the show was over, I went back to the hotel and got on an elevator with Bill Keith. Seizing the opportunity, he pointed his finger at me and said in so many words that he was quite offended by how we had marginalized the individual instrumental award recipients. "How could you do such a thing?" which of course was not a question but a reflection of his frustration and concern. Dell Davis (my co-producer) and I received a lot of criticism from a lot of people regarding that particular awards show (on another issue entirely) and most of it was completely unwarranted. Bill's criticism, however, was not unwarranted. Had I been been able to produce another awards show, I would have fixed how we handled those instrumental awards.
There are people who add immensely to your enjoyment of life and Bill Keith was one of those people for me. I will always respect and admire him for his immense talent and his generosity, not only to me but to others. Thank you Bill for all that I learned from you and for giving me the chance to know you personally.