The "Father of Bluegrass Music" is Bill Monroe, the first recording artist to incorporate into his band the five acoustic instruments (mandolin, 5-strin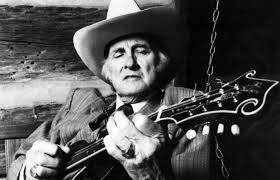 g banjo played three-finger style, fiddle, guitar and string bass) that make up a classic bluegrass ensemble. He was born September 13, 1911 in Rosine, Kentucky, 104 years ago. September 13 fell on a Sunday this year so I played a lot of Bill Monroe music on my Sunday night radio show. Included were performances of Monroe songs by Monroe himself as well as other artists including Ricky Skaggs, Sam Bush, Jerry Douglas, Tom T. Hall, Robert Earl Keen, Dwight Yoakum and Elvis Presley.
I do recount on the show a couple of personal Bill Monroe experiences from the days when I was a member of Brush Arbor. We opened for him at the Palomino Club in North Hollywood and that's one time when I was so nervous I remember breaking into a flop sweat. During one of our faster songs, my thumb-pick flew off my thumb and landed somewhere in the audience. Fortunately, my brother Jim had an extra thumb-pick nearby and handed me one.
We also played a bluegrass festival that same year (1973) which was called "Bill Monroe's Golden West Bluegrass Festival" in Norco, California. The promoter of the show invited us to play but wouldn't allow us to set up our drums. Bill Monroe intervened, however, and gave us permission to go ahead and set up our drums on the stage, which was generally a no-no at bluegrass festivals. Today it's a lot more common, but that experience convinced me that a lot of bluegrass fans put more limits on the music than even the Father of Bluegrass Music himself did. He always encouraged young musicians to play their own music, not just copy what everyone else was doing. Bluegrass music today is much richer and still alive and well because of that. Happy birthday, Bill Monroe!