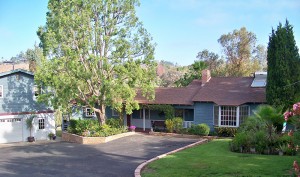 Last week Marci and I moved out of our home in Lakeside after 37 years. Located in Eucalyptus Hills, it was a wonderful house that we purchased in 1978 after a couple years in another house just up the street. We leave behind a ton of memories in that old house which was built in the 1950's and moved onto the property in 1972. We did some remodeling along the way and added a driveway, lots of landscaping, a swimming pool and an office/bedroom over the garage among other things. We added so much to the house, I think, that it simply became too big for just Marci and me. In this house, we raised our family, started a church, ran a business/ministry, hosted weddings and celebrated holidays, especially Easter Sunday. This is the house that our children will remember as their home for many years to come, even though it now has a new owner.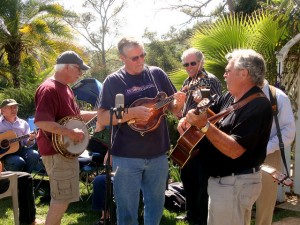 The decision to sell the house and downsize was accelerated somewhat by our visit last summer to the Mayo Clinic in Rochester, Minnesota. It was there that we learned Marci's disability was caused by a disease called MS and was not curable. Since walking up and down stairs was nearly impossible for Marci, we knew we needed to move to a home without stairs. We also knew that we needed to reduce our expenses considerably since I was planning to resign from the church and could no longer afford the upkeep that a big house requires.
Of course, the decision to move was a hard one emotionally. Telling our children that we were selling the house was almost like telling them we were dying. Of course, we ARE dying, but not just now. The house on the other hand, has to go right away. Besides feeling sad about the decision, we also felt a sense of extreme anxiety. What would we do with all our "stuff?" After 37 years in the same place, you tend to collect a lot of things. We have plenty of storage spaces at the house in the basement, in the garage, in the attic and in two outbuildings. Besides the usual kinds of household items, I collected 40 years of bluegrass LP's and CD's from my years as a bluegrass disc-jockey. I also wrote a few books and stashed them in the garage, in the office, under the house and anywhere else I could put them. I do not throw away albums that I listen to and I don't throw away books that I read. I am a man of many bookcases.
And then there is the memorabilia. I am a collector of memories. I have all sorts of youth ministry memorabilia from my Youth Specialties days that I have no idea what to do with. And having played in several bluegrass bands, I have instruments, sound equipment and music paraphernalia that normal people don't have. What to do with all this stuff? (In the end, it took three garage sales, a few dumpsters and the rental of a storage unit.)
The other problem was just getting the house ready to sell. It needed a lot of repairs. Some things were little things (like replacing the window screens) and some things were big (like replacing the entire septic system). After my resignation from the church, I spent most of my time (January through June) on this project. One repair seemed to lead to another. It was never-ending, it seemed.
But finally we put the house on the market at the end of June. We met with our realtor (the same one who sold us the house in the first place, Norm Orgel) and started the process by agreeing on a selling price. There were times when I felt like the price was too high (who would pay such a price for an old house like ours?) and other times when I thought we priced it too low (who wouldn't want to live in an old house like this one with so many happy memories attached to it?)
After the house went on the market (Friday, June 19), Marci and I decided to take a couple days off and go to Rosarito, Mexico for a little R&R. We were exhausted. By the time we got home on Sunday, our realtor informed us that we had an offer on the house … for the full asking price. We were of course elated. The prospective buyer of our home agreed to our "counter-offer" which was simply to give us a 90 day escrow period so that we could find another place to live.
The house-hunting began in earnest a couple of weeks later after we attended my aunt Mabel's 100th birthday party in Florida on July 4th weekend. Our realtor signed us up for a real-estate search program that delivered potential houses to our email in-boxes every day. I began to realize that we were perhaps dreaming to think we could find a house that could meet our needs and also fit into our price range. The homes we liked were all way too expensive.
The housing market in San Diego was also heating up in July. Houses didn't stay on the market very long so we had to move quickly on houses we liked. During the month of July we looked at about 15 homes and couldn't pull the trigger on any of them. There was always something about the house that didn't seem right. Our search included east San Diego, La Mesa, El Cajon, Spring Valley, Santee and Lakeside. We wanted to stay in the same general area we lived in before.
As August was getting closer, we were starting to feel a little more urgency because I had a mission trip to Mexico coming up in a couple of weeks. Maybe we needed to just rent a house until we could find something that we wanted to buy? But that would mean moving twice. Still, it seemed like a viable solution, so I started looking on Craigslist and Zillow for rental properties around San Diego. Suitable homes for rent were few and far between. The ones that I visited were in terrible locations or the houses were dingy and smelled like cigarettes.
Then a house showed up for rent in Alpine. I really hadn't considered Alpine as a place to buy a home but we could possibly rent there if the house was right. So we went to look at it and it was very nice, in a community called Crown Hills. But we were too late. Someone else had already applied to rent the house. We were second on the list and would be contacted in the other renter didn't have a decent credit score or backed out for some reason.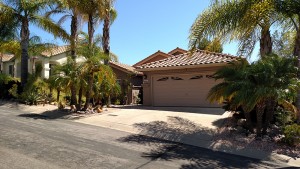 We didn't get that house but we discovered that there were other houses for sale in that same neighborhood. We visited three homes in Crown Hills and the third was the charm. Marci loved it and so did I. We didn't want to make an impulse buy so we waited one day … then contacted our realtor to make an offer on the house. Our offer was accepted right away and we got the house. We discovered later that the family selling the house connected with us because of our Christian faith, which they likely learned about from our Jewish realtor Norm.
The move happened on Friday, August 29 and the whole experience was both exhausting and exhilarating. We couldn't have done it without the generosity and hard work of friends and family members who helped us get things packed up in boxes and then help us load and unload on moving day. Everything arrived safely and now we are trying to unpack, find things and figure out where to put them. We still have way too much stuff.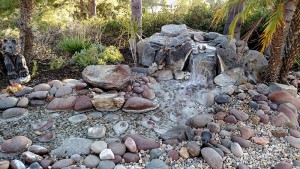 But we love our new home in Alpine. We are so grateful to God for his provision. We wake up every morning feeling like we're on vacation—but with a very large suitcase since all our stuff is here. There is an artificial brook that runs behind the house which reminds us of the living water which Jesus continually supplies to our hearts. It is God who delivered this house to us and we want it to become a place where God is honored and Christ is served. Come visit us when you can.