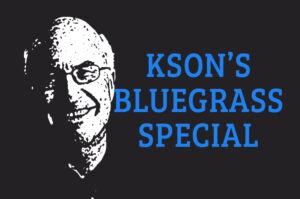 After more than 2300 radio shows, the Bluegrass Special on KSON has come to an end. My last show was heard on Sunday night, September 13th which coincidentally was Bill Monroe's birthday. I'm glad that I was able to go out with a show paying tribute to the Father of Bluegrass Music, whose song "Uncle Pen" was the first song I played when I went on the air March 7, 1976.
When I got the call from station management this month informing me about the changes in weekend programming (affecting all weekend programs on KSON, not just mine) I was told that the decision was effective immediately, so I didn't have the opportunity to say goodbye to my listeners–who some of my KSON colleagues called Wayniacs. So, if you were a Wayniac … So long and THANK YOU! We had a good run and I'm very proud to have been the radio voice of bluegrass music in San Diego for so many years.
In an ironic twist of good (or bad) timing, the end of my radio show coincided with my receiving the Distinguished Achievement Award from the IBMA, one of it's highest honors. Banjoist Alison Brown made the presentation during the virtual awards ceremony on September 30 and prepared a very moving video tribute in my honor which was at the same time humbling and wonderfully affirming. I'm not worthy but I am very grateful.
I will continue to be involved in bluegrass music as long as I can. I'll be working with the IBMA's Bluegrass Trust Fund and maintaining my website bluegrassbios.com among other things. I may not be able to play bluegrass on the radio right now, but I'll definitely be listening. Stay tuned.