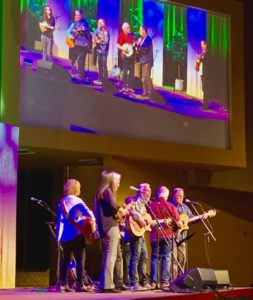 It has been one week today since we put a wrap on this year's Legacy Grandparenting Summit conferencei in Fullerton, which went very well. By all accounts, this was the best conference of the three that we (The Legacy Coalition) have produced so far. Certainly it was the best attended, with about 1200 registered for the conference. The speakers, music and other program elements were very well received and when the conference ended, we got nothing but positive comments.
A highlight for me was being able to perform with my brothers Jim and Joe along with my sister Mary. Jim and his current version of Brush Arbor sang a few of their songs (including a new one that Jim wrote about grandparenting), then Mary did a medley of her most popular songs, then Joe and I joined them for a couple of songs with a family theme. We sounded pretty good if I do say so myself, and it felt good to play music in front of such a large and receptive audience.
The conference left me exhausted, although the conference itself was easy compared to the months leading up to it. On the first day of the conference, it felt like I was tipping over the first domino in an elaborate set-up of thousands of dominoes which had been prepared ahead of time. All that was left to do was watch and like everyone else, ooh and ahh at the results as the dominoes fell over the next three days. Fortunately, they all fell perfectly and the conference was a big success. I am grateful to God and for all those who helped make it happen.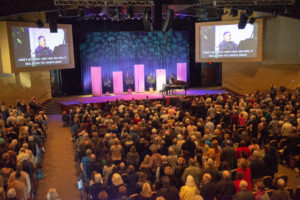 You would think that after a couple of days after the conference, I would be able to relax and rest. But I have not been able to do that at all. I have noticed that the anxiety and stress that I had before the conference still exists, even though I have nothing more to do. It's below the surface. I am beginning to wonder if chronic stress and busyness isn't a kind of addiction, a type of disorder that doesn't go away immediately but instead takes time for healing and recovery. After months of feeling anxious about all the incoming emails, texts, phone calls and things-to-do that need attention, I have found that it's hard to just stop cold-turkey. It feels very strange right now. I keep checking my in-box but there's nothing there of any importance. I'm not used to that.
So I'm in recovery mode and hoping that it won't take too long to find a new normal that includes time to read, rest, and take care of some things that I've been putting off for a while.
Will there be another Legacy Grandparenting Summit to plan in the future? Yes, there will be. We don't yet know where or when it will be but I'm sure the planning will begin soon. Whether or not I will be the one doing the planning is something I will need to decide soon. I have many issues to consider, including the fact that I'm not getting any younger.