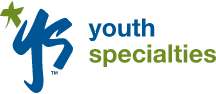 Well, the news is out about the future of Youth Specialties and I'm happy to report that it's very good. YouthWorks, the Minneapolis-based ministry that purchased YS from Zondervan a couple months ago has re-hired Tic Long to come back in and lead the organization. I wrote in a previous post about the high regard I have for Tic and the crucial role that I know he played in the success of YS over the years. I'm confident that under Tic's re-energized leadership (he got an unexpected but certainly much-needed sabbatical after his termination last July), YS will emerge from this transition with its mission and vitality very much intact. Tic sounds to me like he's fired up and going to hit the ground running.
Tic e-mailed me recently to tell me that he was returning to YS with the subject line "God has a sense of humor." So true. I have a feeling that God was grinning a little bit when a week or so before Christmas, I was having breakfast at an El Cajon restaurant with a youth pastor friend of mine and unexpectedly, in walked Tic with the guys from YouthWorks. We went through a series of awkward introductions after which they sat down in the booth right behind us. I wasn't sure what they were talking about although I had a hunch. The familiar laughter that I overheard from Tic was certainly a good sign. I had been praying that something good would come of all the Youth Specialties turmoil of the last few months and in a crazy turn of events, God let me actually be in the same room when he answered that prayer. A sense of humor indeed.
I'm very excited for Tic and everyone else at Youth Specialties. It will be fun to see how God prospers YS under the YouthWorks banner.