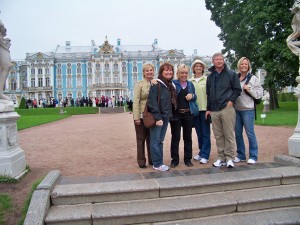 The last few days have been incredible. Saturday and Sunday we visited St. Petersburg, the former capitol of Russia. It's a fascinating city with a lot of history which I discovered I don't really know much about. The city is beautiful with canals all through the city, much like Amsterdam and Venice. We took a little canal cruise on a longboat to see some of the sights and take a lot of pictures.
The highlight of this trip happened yesterday (Sunday) with our visit to the Hermitage Museum, which is located in one of the many palaces built here by the Russian czars. Like the Louvre in Paris, it is home to some of the world's greatest art treasures. Ever since Henri Nouwen told us about his pilgrimage to the Hermitage to study and meditate upon Rembrandt's "Return of the Prodigal Son," I've always wanted to see it myself but never dreamed I ever would. But there it was, just hanging on the wall of the gallery. It was stunning in its beauty and because it has been somewhat iconic for me over the years, it was a spiritually moving experience to see it so close, so big. I wondered what it must have been like for Henri to sit there in that room and gaze upon it for several days in a row and let it speak to him.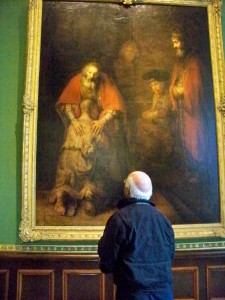 We only had a short time in the museum and we had to return to the ship on time so we had to scurry through several other galleries (the Hermitage is HUGE) which had Picassos, Monets, Renoirs, Cezannes, even works by Leonardo da Vinci hanging on the wall and we had to just zip past them without even taking a look. Somehow this experience reminded me of much of my life. Just too busy to stop and enjoy all the beauty all around me. Still, I'm grateful I got to enjoy what I did.
We left St. Petersburg last evening and arrived in Tallin, Estonia this morning (Monday). I don't think we had even heard of this place until we were invited to come on this cruise but we walked all over its cobblestone streets today. There are probably lots of beautiful places like this we haven't heard of.
While we did get some rain in St. Petersburg, the weather has been good and the seas have been flat and calm so far although I think that's changing right now as I write. We're now on our way to Copenhagen, Denmark and I can feel the ship moving a little more than usual. I may need to take a little Dramamine tonight just in case.
Along with the incredible sights, we've been doing some world-class eating and drinking on this trip. We had an amazing meal last night with the group we are traveling with (my sister Mary, her husband Gary and some of their friends) at the best restaurant on the ship. Gary and his friend Robert are wine experts and brought some nice bottles to share. We are definitely going to come back from this trip a few pounds heavier.

I haven't posted more because the internet access is expensive on board the ship, but hopefully this will keep you updated on where we are and how we're doing. We've been concerned about the hot weather and the fires back home, especially since they are so close to Mary and Gary's home in La Canada. But we pray every day for our family and friends and hope all of you are doing well.