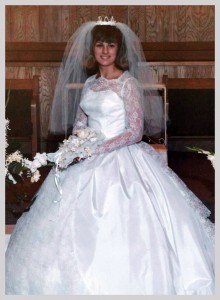 50 years ago, the most beautiful woman in the world said "I do" when asked if she would take this man (me!) to be her lawfully wedded husband. I continue to be amazed by my incredible good fortune.
I am sometimes asked about "the secret" to a long and happy marriage. Quite honestly, I know of no secrets. I usually say "I got lucky." Marci hates for me to say that, but it's my way of saying that not only did my bride smile on me that day but so did God Almighty. The Lord knows I do not deserve her. I'm not worthy. Yet God in his great mercy gave me Marcella Kaye West on January 27, 1966, to have and to hold, from this day forward, til death do us part, and she has not only been willing to put up with me for 50 years but has filled them up with unimaginable joy. Whenever I see her smile (which is to say, whenever I see her) my heart overflows with gratitude to God. My love for her grows every day and has become so much deeper and sweeter today than when we said our vows half a century ago.
What I am most grateful for is that I have a wife who loves Jesus more than me. She has been a godly example to me of faithfulness to God. I listen to her pray every evening and I am humbled and blessed by the intimacy and beauty of her prayers. She truly loves God and loves people. Even with a debilitating disease that has severely limited her ability to walk and do the things she loves to do, she looks forward to each day with joy and wonder and gratitude.
So I am indeed a happy (and lucky) man on this day of celebration, grateful not only for my wife who I love so much but for all of our friends and family who we both of us love and who have contributed so much to our 50 years of marriage. Thank you!