When I resigned my position as Pastor to Generations at College Avenue Baptist Church last year, I had to keep telling myself (and everybody else as well) that I was NOT retiring. I was simply taking time off from ministry to get our home ready to sell, sell it, find a new home, buy it, and then move all our stuff from the old place to the new (or get rid of most of it, which we did.) The process took nine months and we are grateful to now be in a place that is much better for both of us, especially for Marci, who has MS and can't get up and down stairs. It's a nice compact one-level home that we believe God in his mercy provided for us at just the right time.
But now what? What does God want me to do next?
I didn't have to wait long to get an answer to that question. In May of last year I met Larry Fowler, a 30-year veteran of children's ministry with Awana Clubs. He mentioned that after becoming a grandparent, he tried in vain to find some decent resources on grandparenting. There were thousands of books on Christian parenting, he said, but only 7 (seven!) that he could find on Christian grandparenting. And several of those were now out of print. So, he was considering the idea of starting a new organization to help fill that void—one that could provide resources and training for Christian grandparents. He wondered if perhaps I could give him some advice—since I had experience in starting an organization providing resources and training for youth workers a long time ago.
Larry's vision for starting a ministry to help grandparents really resonated with me. I had seen all the research that had been done over the years on spiritual influences in children and youth. Grandparents consistently came in third, right behind mom and dad. After grandparents came significant adults like teachers, mentors, youth and children's ministry workers. I had spent 30 years of my life helping youth workers, another 20 years of my life helping parents … maybe now was the time to start helping grandparents!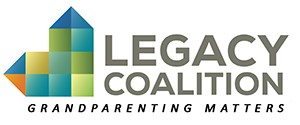 So Larry invited me to a meeting in August of last year in Chicago at Awana headquarters to explore the idea of starting a new ministry to help grandparents. About 25 ministry people were there, each offering their perspective on the need to help grandparents and what it would take to get a new ministry going. After much discussion and prayer, it was decided to put the wheels in motion to launch what would eventually be called "The Legacy Coalition."
I came back from Chicago pretty convinced I wanted to be part of this new effort even though it seemed impossible to me at the time. I would have to work entirely on a volunteer basis. There were no funds to support it (yet) so anyone who got involved would have to donate their time and expenses. I wasn't even sure what I would do. But the vision was compelling and it felt like the right thing for me to do and now was the right time to do it. So after discussing and praying about it with Marci, I said yes to the invitation to become part of the staff of the Legacy Coalition, even without a clear idea of what all that would involve.
We officially launched in January. The board of Awana Clubs International agreed to adopt The Legacy Coalition as a subsidiary until it is able to become independent. This allows us to operate under the auspices of Awana and utilize many of their staff assets in HR, marketing, finance and the like. Larry Fowler recently resigned from his position at Awana in order to be able to lead the Legacy Coalition full time. I am one of several staff members (directors) spread out all over the country. We meet weekly by teleconference. My specific job on the staff is Director of Conferencing. I have been working pretty much full-time planning the first-ever national conference on grandparenting which will be held later this year (November 15-17) in Frisco, Texas (more on that in a later post.) We have another regional conference taking place in May in the Minneapolis/St. Paul area.
Honestly, the Legacy Coalition feels more like a movement than it does an organization. I could write pages on all the cool things we're doing but I'll refer you instead to our freshly-minted website here. Our goal is to see grandparenting ministries start up in hundreds of churches across the country and for millions of Christian grandparents to become more intentional about leveraging the love and influence they already have for their grandkids.
What we need most right now is funding. We are looking for hundreds of people (and churches) who share our vision for helping grandparents and have the means to support us, even if it's just a small amount each month. None of us will be able to keep this going without some financial support. Meanwhile, we are all working hard and expecting that God will provide if he wants us to continue. I believe he does and I'm very excited and energized by what God is doing already through the Legacy Coalition.