Last week I made my annual pilgrimage to Nashville for the IBMA (International Bluegrass Music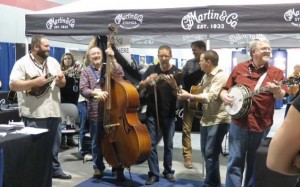 Association) "World of Bluegrass" trade show, awards show and FanFest. I had a wonderful time there meeting up with old friends, listening to music, shopping in the exhibit hall, re-living old memories of the Nashville I remember from my old Brush Arbor days and in general just having fun. Listening to the best musicians on the planet has a way of putting me in a very good place emotionally AND spiritually. I've always considered my passion for bluegrass music a gift from God. Whenever I am enjoying it fully I am engaged in a form of worship. A great musical performance draws me immediately to God who is the Creator of all good music and has given us the capacity to appreciate it.
As I laid awake in my hotel room bed after a particularly wonderful night of music on Friday evening, I thought about how incredibly blessed I was to be able to come to Nashville and immerse myself so completely in this odd world of bluegrass music. My thoughts also turned to other passions in my life. Jesus. My wife. Do I also take time to immerse myself in them—like I do bluegrass? I was starting to feel a bit guilty.
And then it struck me that yes, I think I do. A few weeks ago, my wife and I were blessed to spend a week on the island of Cozumel, off the eastern coast of Mexico. We stayed at a beautiful resort and did nothing but just enjoy each other's company for a whole week. What a wonderful time we had together, just being together and enjoying each other without any of the distractions of my normal life. No banjos. Whenever Marci and I are able to do something like this, we are drawn together in a very intense and beautiful way. We try to do this every year.
And this summer, I had the chance to take a group to Mexico to serve Jesus in Mexico on two separate mission trips. Whenever I have a chance to go and immerse myself in serving those whom Jesus identified with the most, the poor and the needy, I am drawn so much closer to Him. I always come home from those kind of mission trips with a renewed sense of passion and love for my Savior and what He has done for me. I've also been considering a spiritual retreat sometime soon, just a few days to get away and spend some alone time with Jesus—not working for him but just spending time with him.
I'm thankful that God has given me these passions and that I can take time to immerse myself in them from time to time. What are your passions?