Glad you asked that question. One thing I haven't been doing is posting articles on this website. Sorry about that. I tend to be a private person most of the time. I don't share much and I definitely don't overshare. It's not that I have that much to protect with privacy, it's just that I think it's somewhat egotistical to think that people are all that interested in what I'm doing all the time. I'm not that interesting, really. But here we are on my own vanity website, so apparently I'm egotistical enough to think some people might find it for some reason. The least I can do is keep it updated. So here we go.
What have I been up to lately?
I'm still working with the Legacy Coalition, a ministry to help grandparents become more involved in the spiritual formation of their grandkids. I am still the conference director, programming our annual Legacy Grandparenting Summit, which I've written about elsewhere on this website. Our last conference (October of '22) was well attended and featured some great speakers including Anne Graham Lotz, Jim Burns, Miles McPherson and others. It went well overall and was simulcast to over a hundred other locations across the county.
I also host a podcast called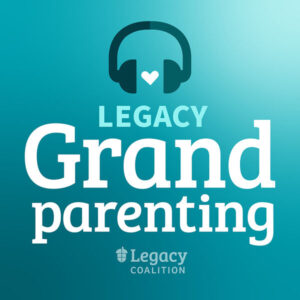 Legacy Grandparenting, which is an interesting assignment. I ended up being the host mainly because with my radio experience, I know how to get a podcast recorded and produced. My co-host is John Coulombe, an old friend who is also involved with the Legacy Coalition. We've interviewed lots of people so far including Josh McDowell, Tim Kimmel, John Trent and many others. We try to keep it light and interesting.
My Bluegrass Special radio show is still on the air, Sundays from 4 to 7 on Mountain Country 107.9 (now in its 48th year). The easiest way to listen is with the iHeart Radio app. If you download the app on your phone, then you can open it and search for KRLY-FM or Mountain Country 107.9 in Alpine, California. You'll hear some good bluegrass music from new artists like Billy Strings, Molly Tuttle and the Wood Box Heroes. But I still play classics from the Dillards, Flatt & Scruggs and the Osborne Brothers. The radio show keeps my involved in the music even though my playing days are pretty much over. I did get to play the banjo recently however for a memorial service. The deceased was a big fan of bluegrass music and wanted me to do that for him, so I did. I can still find a few notes on the banjo.
I'm also an overseer at my church, College Avenue Baptist Church in San Diego. We just called a new pastor whose name is Chris Hilken. He's young and has brought a lot of new energy to the church which has been missing for quite some time. I believe God is going to use him to bring a real revival to College Avenue. It's fun to be a part of what's going on there right now.
I'm not traveling much these days because my primary job is to stay home and take care of my wife of 57 years (Marci) who is still the love of my live. Her MS has been somewhat stabilized over the last few years but it has confined her to a wheelchair (a battery-powered mobility chair). She is surprisingly independent thanks to her chair but she needs help with a lot of other things so I am at the ready to help her at all times (mostly). Travel (like in airplanes or long distances) is difficult for her, so our traveling days are pretty much over. Last year we brought all of our kids and grandkids (who live a long way from us) hom for a family reunion and that was nice. We rented a house nearby that was big enough for all of us and had a great time. We took a picture in the back yard and sent it out as a Christmas card. Here it is: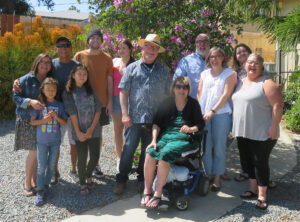 Well that's about it for now. I'll try to post some other news as it happens from time to time. All in all, I'm doing fine, grateful to God that I'm relatively healthy (for a 77-year-old) and able to stay busy doing some things that bring me a lot of joy and satisfaction. I hope the same for you.