I just returned from the National Youth Workers Convention in Nashville (Youth Specialties). I was a speaker at both the Nashville and the San Diego YS conventions this year, an honor for me given that I'm well past my prime as a youth ministry expert. What I am these days is a walking youth ministry museum.
But YS president Tic Long graciously invited me to do a couple of seminars this year based on recent books I've written and I really enjoyed participating in both conventions. At the San Diego convention I also got to do a seminar with my son Nate on camping. Since I really don't know all that much about camping, I basically slow-pitched some questions to Nate (who DOES know a lot about camping) which he hit out of the park. It was a good seminar, if I must say so myself.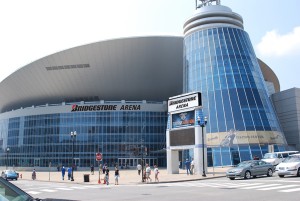 One of the really fun things I got to do this year was lead a few old youth ministry songs at one of the main ("big room") sessions. In Nashville, the "big room" was the Bridgestone Arena, a huge hockey palace across the street from the convention center where some of the biggest concerts and events in Nashville take place. It was quite a rush to lead several thousand youth workers in a half dozen or so songs like "Pass it On" and "Pharoah Pharoah." From the response I got, I think everybody really enjoyed singing those old songs. As it turned out, I warmed up the crowd for the band Jars of Clay who brought things pretty much up to date.
I think the highlight of the convention in Nashville for me was hearing Mark Yaconelli speak. I sat high up in the stands and alternately laughed and cried as he presented a beautifully crafted message on what it means to serve God in ministry. Now in his 40's, Mark has become the spitting image of his dad Mike who I had the opportunity to work with for more than a quarter century. It's obvious that Mark has inherited the formidable speaking talent of his father (with many of the same gestures and mannerisms) yet he clearly communicates in a style of his own which is passionate, fresh and insightful. He had that huge crowd in the palm of his hand for 45 minutes or so, and me in particular. Having known Mark since the day he was born, I loved hearing him speak so skillfully and powerfully. I couldn't keep from wondering if somehow up in Heaven, Mike wasn't enjoying all this too and feeling very proud.
I was only at the Nashville convention two of the five days, but I did see a lot of old friends and catch up a bit with some of them. I also had my first opportunity to get acquainted with Paul Bertelson, the founder and CEO of YouthWorks, the organization that now owns Youth Specialties. YouthWorks is a ministry that has a real heart for youth ministry and as the co-founder of Youth Specialties, I'm very grateful to these good folks for taking on the challenge of keeping YS moving forward, especially during such tough economic times. From all that I heard and saw at both conventions, they are doing a great job.