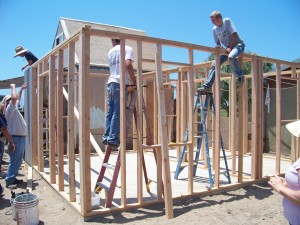 Last week I led a group of 20 people from CABC (College Avenue Baptist Church) to Ensenada, Mexico for an intergenerational short-term mission trip. Once again, we stayed at YUGO Ministries' Ensenada Outreach Center (EOC) and worked with their staff to build a home for a family living in poverty and also to conduct a VBS program for neighborhood children. We have partnered the past few years with a small church in the community of Salitral called "Fuego de Dios" (Fire of God). Pastor Nicolas Gallegos shepherds a small flock there and does a remarkable job of reaching out to this little community. YUGO's "Houses of Hope" program helps local churches serve families in the neighborhood in a very tangible and practical way. Families who receive new homes feel a special connection to their local church long after the house is built, and the ministry continues.
We built a home for a family of six who were living in a one-room house that was built for them by another ministry (Amor, perhaps) many years ago, probably when the family was much smaller. The new three-room house that we built was right next to the old one, so the family can now use both. Their kitchen, which was outside, can now be moved inside. The children will now have beds of their own rather than all sharing a common one.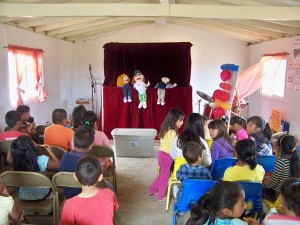 We also conducted a Vacation Bible School program at Pastor Nicolas' church each morning for about 35 children. Along with games, crafts and Bible stories, we did a puppet show each day. I built a portable puppet show stage made of PVC pipe and curtains and I purchased some pre-recorded puppet show scripts that were in Spanish, so our puppeteers only had to move the mouths of the puppets in sync with the dialogue. They worked great, although on the first day, one of the children began crying hysterically when the puppets started to talk. Apparently the little guy had never seen puppets before and they scared him to death. You can imagine what a small child would think upon seeing such odd-looking creatures come to life. He seemed to like (or at least to tolerate) the puppets the rest of the week.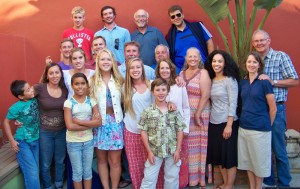 It was a good week of ministry. Although our Mexico team was smaller this year than last, we had a good mix of people who worked hard and accomplished much. Chuck and Shannon Fisher, with their kids Jon, Sara and Chris, are old pros—this was their third year in a row. Bill and Debbie Gossett, with their two sons Joe and John, came out all of the way from Minnesota. Laura Morales, a single mom, brought her two children Roy and Victoria. Sara Fisher invited two of her friends (Tori and Maddie) and made up the puppet team. Bob and Luanne Holaday, longtime members of CABC, joined me as senior members of the team. Esther Tejada and Oscar Miramontes served as our interpreters. Bryce Klabunde, CABC's Pastor of Soul Care, also came for the third year in a row and helped immensely on the construction team.
This was my fifth year doing a family mission trip to Mexico and my third with CABC. In my view, these trips perfectly accomplish my ministry goals as "Pastor to Generations" at CABC. It's my favorite week of ministry of the year. Hardly anything else comes even close as a vehicle for passing faith from one generation to the next.
A week in Mexico is a complete immersion experience in intergenerational discipleship. Parents and children serve Christ together, working side by side for five days. They engage in extended conversations about faith and values. They participate in doing something together that is truly remarkable and very significant as they impact the lifestyle of a family much like their own. They worship together and receive biblical input each day from the YUGO leadership who help them process and learn from what they are experiencing during the week. They have a fun, positive family experience which rivals any family vacation or family camp. And with Mexico being so close to us in San Diego, it's not expensive and easily accessible. All that's needed is a passport and an appetite for some of the best street tacos on the world.
Hopefully we'll be doing it again next year. Let me know if you'd like to go with us.