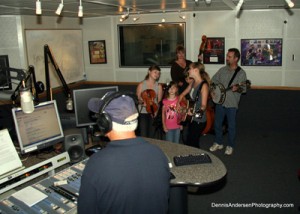 Last week a family band performed live on my radio show called The Anderson Family. They are from Grass Valley, California and had come to the San Diego area to perform at Summergrass and also the monthly San Diego Bluegrass Society "Boll Weevil" gig on the fourth Tuesday of the month. The Anderson Family features dad on the banjo, mom on the bass and their four kids, ages 8 to 16 on the fiddle, guitar, mandolin and Dobro. The youngest plays the Dobro and I'm certain she is the youngest Dobro player I've ever seen.
I've written before about kids in bluegrass and how they provide an example (for me, anyway) that today's kids are fully capable of choosing a path other than the one that today's pop culture and a billion-dollar marketing industry is offering them. I was very impressed by the Anderson Family and I applaud Mark and Christy Anderson for their willingness to set aside the time and make the effort to encourage their children to use their talents and to help them to achieve their goals. In my conversation with them, the children told about their daily schedule of practicing and working hard to get better as musicians. They also were given the opportunity to hear and learn from some of their musical heroes who were accessible and willing to encourage and teach them some things. Neither Mark nor Christy are professional musicians.
There's much here for Christian parents to learn from. I've always believed that if we take the time and make the effort to teach and encourage our children to use their talents and gifts to serve Jesus, and if we expose them to enough real-live heroes of the faith who will encourage them also, they may just choose a different path from the one that the world is offering them.
I've watched quite a few kids grow up playing bluegrass music in a family band and then abandon it when they became adults, but I've also watched many who went on to become some of the most accomplished musicians in the world. In fact, most of our biggest stars in bluegrass and country music today started playing in kid bands or family bands. I'll be keeping an eye out for the Anderson's as they get older and I'll be cheering them on. They have a lot of talent and most importantly the environment where their talent can flourish.