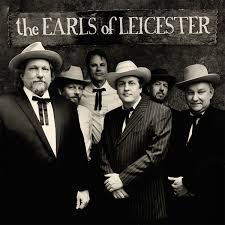 Once again I had a tough time choosing the top bluegrass albums of the year. There were simply too many good ones to choose from. But I made my choices, based primarily on what gets played the most on my radio show.
So here's my list of the top 40 albums of 2014. My apologies to all the great albums and artists who didn't the cut:
The Earls of Leicester "The Earls of Leicester" (Rounder)
Hot Rize "When I'm Free" (Ten in Hand Records)
Bryan Sutton "Into My Own" (Sugar Hill)
The Special Consensus "Country Boy: A Tribute to John Denver" (Compass)
Blue Highway "The Game" (Rounder)
The Osborne Brothers "Nashville" (Pinecastle)
The Seldom Scene "Long Time … Seldom Scene" (Smithsonian Folkways)
Larry Cordle "All Star Duets" (Mightycord)
Steve Martin and the Steep Canyon Rangers featuring Edie Brickell "Live" (Rounder)
Frank Solivan and Dirty Kitchen "Cold Spell" (Compass)
Dolly Parton "Blue Smoke" (Dolly Records)
Lonesome River Band "Turn on a Dime" (Mountain Home)
The Darrell Webb Band "Dream Big: A 20 Year Celebration" (Mountain Fever)
Balsam Range "Five" (Mountain Home)
Rhonda Vincent "Only Me" (Upper Management)
Joe Mullins and The Radio Ramblers "Another Day from Life" (Rebel)
Darren Nicholson "Things Left Undone" (Bearded Baby)
Tim Stafford "Just to Hear the Whistle Blow" (Hedge Drive)
Volume 5 "The Day We Learn to Fly" (Mountain Fever)
Flatt Lonesome "Too" (Mountain Home)
Michael Cleveland and Flamekeeper "On Down the Line" (Compass)
Irene Kelley "Pennsylvania Coal" (Patio Records)
Mike Scott and Friends "The Old Country Church" (Rural Rhythm)
Phil Leadbetter "The Next Move" (Pinecastle)
Doyle Lawson and Quicksilver "Open Carefully: Message Inside" (Mountain Home)
Larry Sparks "Lonesome and Then Some" (Rebel)
Front Country "Sake of the Sound" (Front Country)
Rob McCoury "5 String Flame Thrower" (McCoury Music)
Dave Adkins "Nothing to Lose" (Mountain Fever)
Detour "Going Nowhere Fast" (Mountain Fever)
Mike Auldridge, Jerry Douglas, Rob Ickes "Three Bells" (Rounder)
Shawn Lane "Mountain Songs" (Cat Town)
Crowe, Lawson and Williams "Standing Tall and Tough" (Mountain Home)
The Roys "The View" (Rural Rhythm)
Ralph Stanley and Ralph Stanley II "Side by Side" (Rebel)
Kathy Kallick "Cut to the Chase" (Live Oak)
Junior Sisk & Ramblers Choice "Trouble Follows Me" (Rebel)
Jon Weisberger "I've Been Mostly Awake" (Wise Kings)
Becky Buller "Tween Earth and Sky" (no label)
Wayne Taylor "Movin' On" (Raincoe)
HAPPY NEW YEAR!