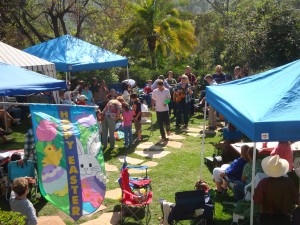 Well, actually it was another bluegrass Easter at our house this year, but a major earthquake in Baja California (Mexico) had things "all shook up" for a few seconds. It happened while our band was playing the Cherokee Shuffle. Everyone looked a bit startled by the whole thing but we just kept on playing and everyone enjoyed the ride.
We were blessed with another beautiful day for our annual celebration of Easter. We are so grateful that Sunday was warm and sunny (75 degrees). The next day (Monday), a cold front came through and it rained all day.
This year marks the 30th year we have hosted our Easter party. Actually, we were afraid we wouldn't be able to do it this year as we had some serious damage around our house from winter storms. But we finally decided to give it a shot about three weeks before Easter and it turned out to be one of the best ever with the earthquake adding an exclamation point to the festivities. He is risen indeed!