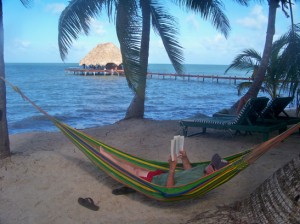 Last week Marci and I were finally able to take a week off and go on vacation, something we haven't been able to do for a couple of years. Last summer we were stuck in a local hotel most of the summer (with people who were vacationing here) and I had a bout with Bells Palsy. All that to say that last summer wasn't so great for us, vacation-wise. So we made sure to plan at least a week this summer to do something fun.
As we were considering options for our vacation week, we got the crazy idea of visiting our good friends Gary and Georgia Bell who moved to Belize (Central America) earlier this year. I checked on flights and the airfare wasn't too bad so we decided to throw caution to the wind and just go. We had no idea what we would find in Belize (other than the Bell's) since we had never been there before, but it sounded like an adventure.
And it was. We booked a first night hotel room on a Belize island called Caye Caulker. The island is small, reachable only by water taxi, and there are no cars on the island–only bikes and golf carts. We stayed at a nice little hotel and enjoyed the island atmosphere. We even went snorkeling with stingrays and sharks swimming all around us.
After a couple of nights on Caye Caulker, we headed to a place called Placencia which we heard had the best beaches in Belize. We took the water taxi back to Belize City, rented a car (a real clunker as it turned out) and drove about six hours to a wonderful hotel called The Inn at Roberts Grove. We stayed there for three days and just took that time to relax. We didn't do any sightseeing at all but just stayed put and enjoyed the beach. This being the off season for tourism, we literally had the place to ourselves and it was fantastic.
After our time in Placencia, we drove our sputtering rental car to San Ignacio, an major inland city in Belize close to the Guatemalan border. Our friends the Bell's were gracious hosts. We loved staying with them even though we found the heat and humidity somewhat suffocating. They have a very nice home by Belizean standards but it was not air conditioned. Thank God for fans.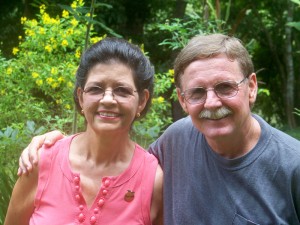 Gary Bell has been a dear friend of mine for many many years. As a high school student, he attended a Campus Life Club that I led back in the 1960's. Ten or fifteen years later, his graphic design firm was hired by Youth Specialties. When I started Understanding Your Teenager in the early 90's, Gary did all of my graphic design work. He's a talented guy and a committed Christian.
For several years, Gary has served on the board of a mission organization called Sparrows Gate and in January, he and his wife Georgia moved to Belize to work with children. They opened a children's center in downtown San Ignacio called "Kid's Corner" which offers homework help, tutoring and lots of fun activities for kids who need a place to hang out after school. They are also helping Sparrows Gate set up a mission home base for short term missionaries who come to serve in Belize. After visiting with them and seeing what they are doing first-hand, we are even more impressed with the work they are doing and amazed by the sacrifice they have made to pursue this call of God on their lives.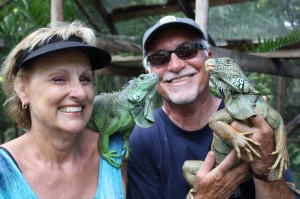 San Ignacio is also a wonderful place for tourists to visit, so the Bell's gave us a tour of the area. We visited Mayan ruins (archaeological sites) and an Iguana preserve. We ate in some very nice restaurants and truly enjoyed spending time with our wonderful friends.
Sometimes when you plan a vacation like this one, there's no way to predict how things are going to go. "The best laid plans …" and all that. But this trip definitely lived up to our expectations. As they like to say down there, Belize is unbelizable.