I have a bluegrass band called Lighthouse that has been performing around San Diego for a couple of decades now.  To see where we're performing next, click here.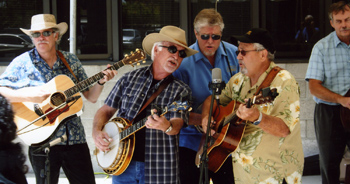 Here's the band bio:
LIGHTHOUSE  was formed in 1993 by five veteran bluegrass musicians from the San Diego area.  They chose their name to identify themselves with San Diego (with its famous lighthouse on Point Loma) and also with their passion for gospel music. "For God, who said 'Let light shine out of darkness,' has made his light shine in our hearts …" (2 Cor. 4:6).

Guitarist and lead singer Rick Kirby was the founder of "Pacific-ly Bluegrass," a legendary San Diego band that was together for more than 15 years. The group recorded three albums and played hundreds of concerts and bluegrass festivals across the United States. Originally from North Carolina, Rick was also the founding president of the San Diego Bluegrass Society.

Banjo player and vocalist Wayne Rice has been involved in bluegrass music since the 1960's. He was an original member of Brush Arbor, a popular country-gospel group of the 1970's. While Wayne was with Brush Arbor, the group recorded two albums for Capitol Records, played Nashville's Grand Ole Opry, and was voted "Vocal Group of the Year" by the Academy of Country Music (1973). Wayne is also the long time host of  "The Bluegrass Special" a radio program heard weekly on KSON-FM in San Diego.

Mandolinist and vocalist Noel Taggart is a multi-instrumentalist who has performed with several bluegrass bands around San Diego. He previously played banjo with Blue Skies, a popular San Diego group of the 1980's. He also was a member of Higher Ground and Rose Canyon. His soaring tenor voice is especially suited for the "high lonesome sound" which characterizes bluegrass music.

Playing the Dobro (resonator guitar) and singing bass is Kim Weeks, also a former member of Blue Skies and several other regional bands.  Kim is considered one of the top Dobro players on the west coast.

Tom Cunningham is the band's fiddler and lead guitarist.  With more than 30 years of experience as a full-time musician, he often performs in Las Vegas and Laughlin, Nevada and locally at tourist attractions, conventions, corporate events and other entertainment venues.

On the upright bass is Dave Somes. He's a native San Diegan, now living in Descanso, who has performed with a variety of musical ensembles including the New City Sinfonia and "The Cotton Patch Gospels" at Lamb's Players Theatre.  He is also a former member of "Higher Ground" (a bluegrass band with Noel Taggart and Kim Weeks).

LIGHTHOUSE has performed at bluegrass festivals, churches, coffee houses and concert venues throughout Southern California. They have performed at Huck Finn's Country and Bluegrass Jubilee in Victorville, the San Diego Art Museum, the East County Performing Arts Center, Sea World, 4th and B Nightclub in San Diego, the Del Mar Fair. KSON's CountryFest, and the Roger Hedgecock Show (KOGO).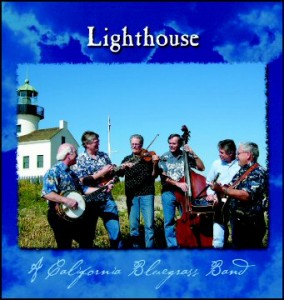 We recorded a CD in 2006 with some of our favorite songs on it. We no longer have any actual CD's left to sell but if you would like to download a digital copy from CD Baby, click here. It is also available from  iTunes or Amazon.com. Be sure to type in "Lighthouse: A California Bluegrass Band" if you're doing a web search.