Tag Archives: Add new tag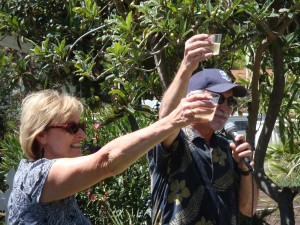 We had a great time on Easter Sunday celebrating the Resurrection with a back yard full of family and friends.  The weather was perfect, the food was delicious and joyful bluegrass music was heard all over our neighborhood.  I've posted a few pictures on Flickr.
I hope we can continue hosting this event every year.  I love Easter and I know everyone enjoys being with us in our back yard which is always green and colorful with the flowers in bloom.  I'm a little worried about how the economy will affect us in the future–and whether we'll be able to keep our yard in "party shape" for another year.  Water rates are being increased significantly where we live so we'll have to cut back and let some things go.  And we no longer have a gardener to help us out.  So we'll do our best to keep things growing and hopefully next year the celebrating will continue.  He is risen indeed!