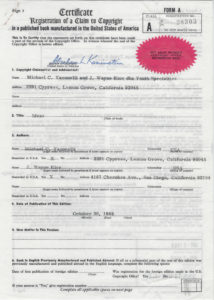 It was the summer of 1968 when Mike Yaconelli and I resigned from our jobs with San Diego Youth For Christ and became youth directors at two local churches. I won't go into the reasons we left YFC, but we both needed a little more normalcy in our lives at that time. Earlier in the year, Mike and I both traveled to Wheaton, Illinois, home of YFC's international headquarters, to help write a manual for their new high-school club ministry called Campus Life, which had been developed in San Diego. The new manual (called "Impact") was published in August of 1968, in time for the upcoming school year. It contained hundreds of great ideas for Campus Life clubs–games, skits, crowd breakers, publicity ideas, special events, discussion starters, you name it. It was a gold mine of youth ministry ideas that made it possible for any YFC leader anywhere in the country to duplicate the Campus Life club model with success.
After the manual came out, Mike and I asked YFC for a copy but were informed that we could not have one because we were no longer employed by Youth For Christ. It didn't matter that we had written it. A policy had been established that only "credentialed" YFC staff were allowed access to the ideas in that book. The manual was treated like a confidential document containing trade secrets for Campus Life clubs, and there were fears among some YFC staff that if it fell into the wrong hands, the success of Campus Life clubs around the country would be seriously compromised.
I can still remember the night when Mike and I were sitting in my apartment stewing over over the fact that we couldn't get our hands on one of those manuals. As we sat there feeling frustrated and a little ticked off, we came up with a plan: "Why don't we just write another manual, only this time we'll write it for church youth workers instead of YFC?"
Our motivation may not have been very noble, but that's exactly what we did. We started going through our notes and wrote a new book simply called Ideas. It contained crowd breakers, games, skits–a lot of the same stuff that was in the YFC manual. We typed it up on Mike's IBM Selectric Typewriter and had the 50 or so pages duplicated at a local "quick print" shop down the street. I silk-screened "Ideas" on a stack of yellow binders that I had purchased at the San Diego State bookstore and our two youth groups did the collating and assembly of the books.
Before we got the books printed, Mike and I decided to call our little book-publishing enterprise Youth Specialties–a name that took about five minutes to come up with. There was a business located near us called Corvette Specialties (specializing in parts for souped-up Chevy Corvettes) and even though neither of us owned Corvettes (yet), we though it was a pretty cool place. So Youth Specialties sounded like a winner. I designed a little YS logo to put on the cover and voila! we were in business.
So "Youth Specialties" went on the title page as the publisher. We copyrighted the book (dated October 30, 1968, see above) and started selling them out the trunks of our cars to youth workers we knew around southern California. We took some to a youth ministry retreat at Forest Home and we also had a booth at the GLASS (Greater Los Angeles Sunday School) Convention. We ran an ad in Christianity Today magazine. Lo and behold, we sold all our supply of books and had to print more. Things took off from there. More editions of the Ideas books were written, the first National Youth Workers Convention was organized, and Youth Specialties grew like crazy through the seventies, eighties and beyond. And it's still having an impact today–under new leadership from Doug Fields and Reggie Joiner. From what I hear, the 2018 National Youth Workers Convention coming up this November is going to be one of the biggest ever.
I sometimes wonder … would there have been a Youth Specialties if YFC had just given us a copy of that first Impact manual? My guess is no.
But I'm glad that God decided to use that little episode in our lives to accomplish some incredible things in youth ministry over the past half century. I'm sure that if there had been no Youth Specialties, God would have used someone else (and he certainly has!) But I'm honored and blessed that I got to play a small role in the ongoing history of youth ministry. It's just hard to believe that it all started 50 years ago!